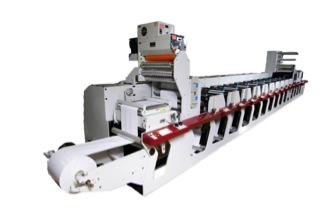 KIEL, WI – (JULY 11, 2014)
Wind Walker Label is proud to announce the addition of a 10 color 17" Mark Andy P5, LED Press.
Capable of speeds in excess of 750 feet per minute, the 17" quick change over press is equipped with a the AVT Helios II System providing 100% inspection on press with closed loop connection to rewind. The LED cure system provides cure rates approaching 100% with minimal heat generation making this the optimal platform for the manufacturing of flexible films, shrink sleeves and pressure sensitive products.
The Mark Andy P5 is the 14th press in the newly expanded Kiel, WI production facility and demonstrates the commitment of the company to re-invest in the company to meet customer needs.
Located in Kiel, Wisconsin, Wind Walker Label has been providing packaging solutions to a wide range of industries for over 20 years. Wind Walker continues to reinvest in the most up-to-date and efficient manufacturing platforms available providing customers with the highest level of quality available in the market.
Contact us regarding your application and how we may be of service.