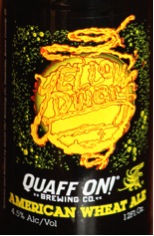 KIEL, WI – (September 10, 2014)
Wind Walker Label announces a pressure sensitive solution to the look and feel of printed bottles providing increased flexibility in manufacturing and seasonal brews.
The solutions incorporates the use of a clear no-look label material and the addition of spot tactile varnishes at varying heights to not only accentuate the design but also give the feel of a printed bottle.
Since this is a label and not a printed bottle, brewers can now purchase a standard bottle that crosses multiple beers thus reducing glass costs and inventory issues. Coupled with Wind Walkers Vendor Managed Inventory program, Wind Walker helps large and small brewers effectively manage cash flow and reduce inventory expense.
Located in Kiel, Wisconsin, Wind Walker Label has been providing packaging solutions to a wide range of industries for over 20 years. Wind Walker continues to reinvest in the most up-to-date and efficient manufacturing platforms available providing customers with the highest level of quality available in the market.
Contact us regarding your application and how we may be of service.